The humble sausage roll. Tasty pork encased in golden puff pastry – warm, flaky, comforting…it's a national treasure!
Did you know, Britain's love for wrapping meat in pastry can be traced back to the Ancient Greeks and Romans? And the 'modern' sausage roll – as we know and adore it today – was first mentioned in The Times newspaper as early as the mid-19th century.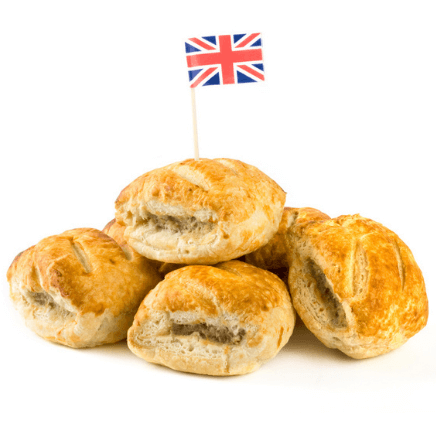 Fast forward to 2022, and it's still one of the nation's absolute favourites. So much so that Greggs is said to sell approximately 2.5 million sausage rolls a week and 140 million every year!
These delicious pastry snacks are quintessentially British. Iconic, even. So it begs the question…Why is it so damn hard to find one that's gluten free?
Around 1 in 100 people in the UK are living with coeliac disease and at least 10% of UK consumers are now believed to be following a gluten-free diet. Yet, gluten free (GF) sausage rolls are still incredibly difficult to get your hands on. That means, roughly 7 million Brits are being deprived of their right to pork and pastry goodness. It's an injustice!
Here at Supreme Sausages, we don't believe you should miss out, just because your gut isn't a fan of wheat. Which is why, we're proud to offer a delicious range of gluten free sausages.

These are all made using a gluten free crumb rather than wheatflour. But they still boast the same mouth-watering texture. They're available in four of our most popular award-winning flavours, including Cumberland, Pork and Leek, Toulouse, and Chalgrove's English Pork. And they're perfect for rustling up some homemade GF sausage rolls.
So why not grab yourself a pack and try our recipe?
These are just as good (if not better!) than any gluten-riddled versions found in high street bakers and supermarkets. We promise you won't be able to tell the difference. They're super quick and easy to make. And most importantly, they're coeliac-friendly.

Our 'can't tell the difference' gluten free sausage roll recipe
Prep and cooking time: 30 minutes
Servings: 16 heavenly gluten free sausage rolls
Ingredients:
280g of chilled gluten free puff pastry (pre-made sheets)
400g of gluten free sausagemeat (i.e. 1 pack of 6 from Supreme Sausages)
1 medium egg
1 tbsp of sesame seeds
Cooking instructions:
Preheat the oven to 180˚C (200˚C fan, gas mark 4)
First things first, you'll need to de-case all 6 of your gluten free sausages. Carefully snip a little hole at the end of each casing with scissors. Squeeze the contents into a bowl. Then, using a wooden spoon, break up any larger chunks of the sausagemeat until the mixture is smooth.
Set the sausagemeat to one side; it's time to prep your pastry.

Simply lay a pre-made sheet (with the non-stick paper provided) onto a chopping board and slice it in half, lengthways. For best results, we recommend taking the pastry out of the fridge around 10 minutes before you're ready to use it. It just makes it a bit easier to work with! And don't roll the pastry with a pin, as this will compress the layers and stop it from rising as it should.
Divide the sausagemeat into 2 equal portions, before spooning it out – lengthways, in a line along the centre of each rectangle. Use your fingers to compact the meat and fill any gaps.
Next, crack the egg into a small bowl and whisk. Dunk your pastry brush and brush the egg wash along one side of each rectangle. Then, carefully roll the pastry around the sausagemeat. The egg wash should successfully hold the pastry in place whilst it bakes. But for extra peace of mind, it's worth cutting off any excess pastry with scissors and gently pressing the edges with a fork.
Use the remaining egg wash to cover the outside of the pastry, before finishing with a sprinkle of sesame seeds. Or simply use a sharp knife to score diagonal lines into the top of each roll.
Finally, slice each roll into 8 individual pieces and transfer all 16 onto a lined baking tray. Place the tray in the pre-heated oven and leave them to bake for around 20 minutes. You'll know when they're ready, as the tops will be golden and crispy and the aroma in your kitchen will be divine!
Eat these yummy gluten free sausage rolls either warm or cold, and serve them with ketchup, brown sauce, sweet chilli jam, tomato chutney, mustard… it's up to you. Made using just four ingredients, in as little as half an hour, they're utterly scrumptious – so good, in fact, you won't believe they don't contain gluten!

Ready to try our gluten free sausage rolls?
How could you possibly resist? Choose your favourite variety from our gluten free sausages range. Or why not treat yourself to our 'Gluten Free 10 Pack Special'?
This includes three packs of both our Gluten Free Cumberland and Chalgrove's English Pork Sausages, as well two packs of both our Gluten Free Pork and Leek and Toulouse Sausages. Available for just £34.99, it's fantastic value for money and a great option if you'd like to batch make some mouth-watering GF sausage rolls – with an assortment of delish flavours.
All of our gluten free sausages are produced on the last week of each month and dispatched the same day to guarantee their freshness. So why not order yours today?
If you have any questions, you're always welcome to get in touch. Either call us on 01865 891 652 or send an email to mail@supremesausages.co.uk and we'll get back to you.
And if you do have a go at making our gluten free sausage roll recipe, be sure to take a photo and tag us on social media – using @supremesausagesltd or #SupremeSausages. We'd love to see the results and know that all you gluten-free sausage roll lovers are finally getting the pastry treats you deserve!