Determined to eat healthier this year?
We hear you.
COVID-19 has made the last couple of years super tough. Comfort food has become essential to keep our spirits up. The fridge has never been more than a few steps away. And skinny jeans have been swapped for stretchy loungewear.
It's all had a negative impact on our waistline. Which is why, 'eating healthier' is said to be one of the most popular New Year's Resolutions for 2022 – with 43% of Brits keen to improve their diet.
Here at Supreme Sausages, we'd like to do our bit to help. To set you on the right track, we've rounded up some of our favourite healthy sausage recipes – all of which can be made using the delicious sausages and sausagemeat available in our store.
They're quick and easy to cook, low in calories, yet packed full of flavour. The kind of dishes that will encourage you to stick with it, no matter how much you're craving a cheeky weekend takeaway. So, why not have a go? Stock up on some bangers and make healthy eating your new way of life.
1. Sausage and white bean casserole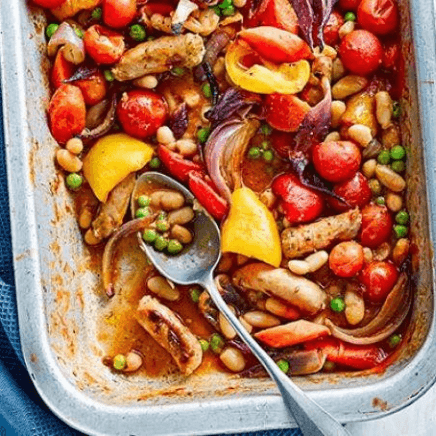 Nutritional information (per serving):
| | | | | | | | |
| --- | --- | --- | --- | --- | --- | --- | --- |
| kcal | fat | saturates | carbs | sugars | fibre | protein | salt |
| 363 | 17g | 6g | 32g | 15g | 11g | 16g | 1.2g |
This is the perfect healthy sausage dish for a busy weekday night.
Everything can simply be thrown into one pan and oven roasted for about an hour – giving you plenty of time to complement your new diet with a calorie-busting workout or jog.
All of our sausages would work well with this recipe, but we particularly recommend Chalgrove's English Pork Chipolatas. Simply pop them in a deep baking tray with peppers, red onions, carrots, peeled cherry tomatoes, garden peas and white peas and serve it up with some new potatoes.
It's a super-tasty meal that all the family will love, packing in four of your five-a-day in just one serving.
2. Full cooked breakfast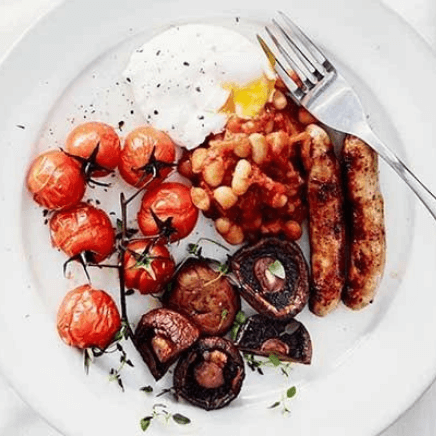 Nutritional information (per serving):
| | | | | | | | |
| --- | --- | --- | --- | --- | --- | --- | --- |
| kcal | fat | saturates | carbs | sugars | fibre | protein | salt |
| 370 | 21g | 5g | 20g | 10g | 8g | 20g | 0.9g |
The full English has a bad reputation for being unhealthy – but it doesn't have to be a greasy fry up.
There are lots of ways to make it healthier and reduce the number of calories, without sacrificing taste. And for those who love a cooked weekend breakfast, our take is sure to satisfy the cravings.
The key is to avoid the frying pan. Start by grilling our Pork, Tomato and Black Pepper Sausages until they're golden brown. Toss some mushrooms and cherry tomatoes into a tin and roast for 10 minutes. Opt for a poached egg rather than a fried. And serve it all up with some delicious baked beans.
It's hearty yet healthy and a great way to start your day.
3. Sausage, brussels sprout and potato soup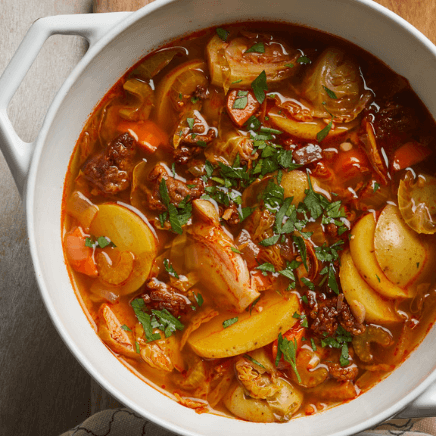 Nutritional information (per serving):
| | | | | | | | |
| --- | --- | --- | --- | --- | --- | --- | --- |
| kcal | fat | saturates | carbs | sugars | fibre | protein | salt |
| 358 | 20.5g | 4.7g | 31.5g | 5.4g | 5.4g | 14.9g | 0.6g |
Got some leftover sprouts from Christmas? This low-calorie sausage recipe is a great way to use them up and please everyone in the house – whether they're watching their weight or not.
Simply add our Cumberland Pork Sausagemeat to a large pot and place over a medium heat. Stir it occasionally and break it up with a spoon until cooked. Then, add some chopped onion, carrots, celery, garlic, paprika, potatoes, chicken broth and lastly – those infamous Brussels sprouts.
Bring everything to a boil, then reduce the heat to simmer for 7-8 minutes. It's a big warm hug in a bowl, perfect for both lunch and dinner throughout January, and it's kind to your waistline. What's not to love?
4. Healthy sausage rolls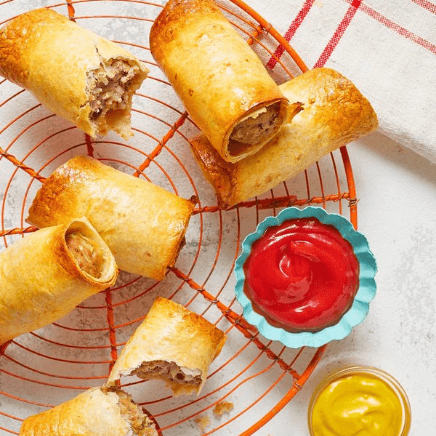 Nutritional information (per serving):
| | | | | | |
| --- | --- | --- | --- | --- | --- |
| kcal | fat | saturates | carbs | sugars | protein |
| 399 | 3g | 1g | 3g | 1g | 4g |
Sausage rolls? Healthy? Is that even possible?
The answer is yes – and they're seriously, mouth-wateringly good.
Our healthy sausage roll recipe is guaranteed to satisfy your pastry cravings. They're an ideal snack or lunch idea and, for those on a strict diet plan, a great alternative to greasy bakery varieties.
Pop our Chalgrove's English Pork Sausagemeat into a bowl with half an onion, one egg, freshly chopped thyme, sage and parsley, mustard powder, and a dash of salt, pepper and Worcestershire sauce. Mix it all together. Then, divide it into six equal sausage shapes and bake for 15 minutes.
To cut down the calories, our trick is to ditch puff pastry and opt for wholemeal tortillas instead. Once cooked, simply wrap up the sausagemeat and put them back in the oven for another 10 minutes.
They're flaky, tasty, and perfect for dipping into your favourite ketchup.
5. Bangers and mash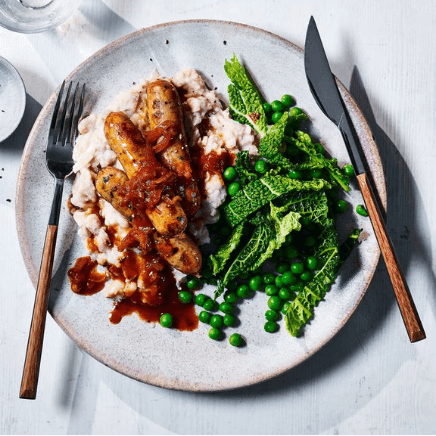 Nutritional information (per serving):
| | | | | | | | |
| --- | --- | --- | --- | --- | --- | --- | --- |
| kcal | fat | saturates | carbs | sugars | fibre | protein | salt |
| 337 | 5g | 2g | 28g | 4g | 11g | 40g | 3.2g |
You can't beat a classic dish on a cold winter's night – and just because you're eating healthy, doesn't mean you have to miss out. Our healthy bangers and mash recipe will hit the spot nicely.
Keep things traditional with our succulent Pork and Leek Sausages. But rather than serving them up with potatoes, why not try a cannellini bean mash instead? Just cook the beans in a saucepan with stock and lemon zest, then whiz them in a food processor until they're smooth and creamy.
For an added healthy punch, you could also swap your classic gravy for a sundried tomato alternative. And dish it all up with a generous helping of garden peas, cabbage and kale.

Ready to try our healthy sausage meals?
As a leading online butcher, we have a fantastic range of sausages and sausagemeat for you to choose from. And whatever healthy sausage recipe you have in mind – whether you'd like to try one of the dishes listed above or one of your own – we're bound to have something to suit.
Rest assured, there's zero nonsense in our tasty bangers. They're made in the old-fashioned way, using quality farmed pork and the finest ingredients. And to make life easier, our product pages feature detailed nutritional information – so you'll know exactly what you're eating.
All of our products are made and dispatched the same day to guarantee freshness, and they can be frozen for 12 months. So why not stock up and batch-make a few different dishes? That way, if you can't be bothered to cook, you can stick to your resolution and resist the temptation of a takeaway!