You can buy pretty much anything online these days – and meat is no exception.
Rather than facing the crowds at the supermarket – with a heavy basket and toddler in tow – it's now possible to order from an online butcher and have your favourite cuts delivered directly to your door. No queuing. No hassle. No need to leave your home.
As a whole, online grocery shopping has become increasingly popular in recent years – accelerated even further by COVID-19. And 90% of shoppers now say they'll continue to do their weekly food shop online following the pandemic. Why? Quite simply, because it's better.
For those who are still on the fence, here are just a few of the benefits of arranging an online meat delivery – particularly from our master butchers, here at Supreme Sausages.

5 benefits of buying meat online
1. Convenience
Buying meat online is by far quicker and easier (and less stressful!) than shopping in-store.
For a start, you can browse whenever you like – whether that's before work, after work, or at 2am when you're struggling to sleep! Products can be 'added to basket' in just a few clicks. You won't need to queue at the checkout. Your order will be delivered at a time that works for you. And the best bit? It can all be done from the sofa.
Using an online butcher can save you so much time. Rather than rushing to grab the last pack of sausages before the shop closes, you can catch up with friends, do that much-needed workout, or even just relax in front of the TV. Certainly sounds like the better option to us.
2. Cost
Getting meat delivered can also be great news for your bank balance.
Supermarket products have usually passed through several different parties before reaching the shelf, which increases the price for the customer. But when you shop with an online butcher, essentially, you're cutting out the middleman – going straight to the supplier and getting higher quality meats for a much lower price.
Here at Supreme Sausages, we also have fewer overheads than a typical bricks-and-mortar butcher. Which means, we can keep the costs of our delicious products to a minimum and our website often features seasonal deals and special offers.
3. Quality
When buying meat online for the first time, people are often surprised by the quality of the products. But it's something we take great pride in – especially here at Supreme Sausages.
We only ever sell the very best. All of our products are handmade by supreme butchers, using the finest ingredients. We're open and honest about where those ingredients come from and how our business works. And to ensure your products are chilled to perfection and super fresh, orders are made on the same day as dispatch and packaged in ice-pack foil boxes.
They're restaurant-quality cuts of meat, available to buy, cook, and enjoy – in the comfort of your own home.
4. Variety
Limited to the small range of products available at the supermarket?
Shopping with an online butcher can be a huge gamechanger. Automatically you'll have a lot more variety to choose from – different cuts, different flavours, different recipes. It may just be the inspiration you need to mix up your weekly meal rota!
As you might have guessed, sausages are our no. 1 speciality. We have 10 mouth-watering recipes for you to choose from, and our butchers are always experimenting and cooking up new, tasty varieties for you to try. What's more, we also offer a range of quality meats, including gourmet burgers, bacon and gammon, countryside pork, grass-fed beef and much more.
Treat yourself to a selection and check out our blog for some fresh and exciting recipe ideas.
5. Bulk orders
Ordering meat online makes it much easier to buy in bulk and stick to your weekly food budget. Rather than nipping back and forth to the shops (and getting tempted by extra items!), you can think about your recipes and buy the meat you require for this week's meals – all in one go.
To add to the convenience, most online butchers – including here at Supreme Sausages – now offer 'meat boxes'. These typically feature a selection of premium cuts, for a discounted price. And they're a great way to plan meals and stock up on supplies for BBQs, dinner dates, and parties.

Arrange your first online meat delivery today
There are so many advantages to using an online butcher. Why not give it a try this January?
Shopping with us is really simple.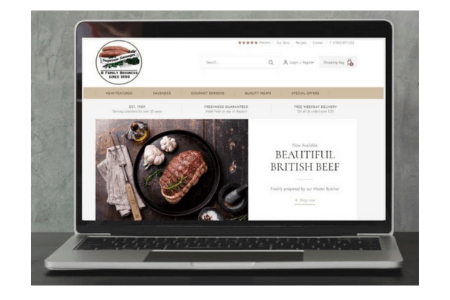 Just have a nosey around the website. See which of our products take your fancy and pop them in your shopping bag. Once we've received your order, we'll get to work preparing it. Delivery is free if you spend more than £30 and we aim to deliver all orders the next working day. Then all that's left to do, is fire up the grill and enjoy the deliciousness of our quality meats.
If you'd like to know a bit more about our online meat deliveries – and the farm to fork approach of using an online butcher – you're welcome to get in touch at any time. Always on hand to help, we'll happily talk you through the products available and the tried-and-tested methods that we use, to ensure the meat delivered is high-quality, fresh and utterly scrumptious.
Just give us a call on 01865 891 652. Or if you prefer, send an email to mail@supremesausages.co.uk and we'll respond to your enquiry as soon as possible.