Fire up the grills.
As lockdown restrictions continue to ease, brighter days and summer socialising are both on the horizon (hooray!). Which means, it's time to dust off the barbie and invite your nearest and dearest. It's the perfect way to get together safely and catch up over a beer… or three… and enjoy some tasty food. And with the help of our top BBQ tips, we guarantee you'll serve up a feast to remember.
6 barbeque tips to grill like a pro
1. Invest in some quality BBQ meats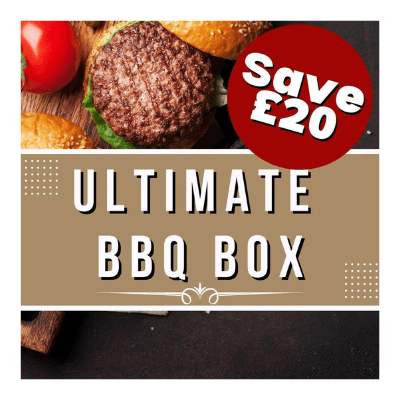 It's the number one rule.
A great summer BBQ always starts with top-quality BBQ meat. We're talking prime cuts, that both look and taste fantastic and will leave your guests wanting more. And why limit yourself to a simple quarter pounder? Yes, a big juicy burger is a BBQ essential. But there are so many foods that are perfect for alfresco grilling. It's nice to have a selection for your friends to choose from.
Here at Supreme Sausages, this year we're offering the 'Ultimate BBQ Box' for £39.75. This features everything you need to create a delicious menu of dishes, including jumbo pork sausages, gourmet burgers, chilli beef koftas, sweet and sour pork kebabs, marinated pork loin steaks and bacon.
As part of our online BBQ meat range, we also have delicious pork belly slices, salt and pepper pork ribs, peppered steak kebabs, and more. All of which are superb quality and affordably priced.
So, why not take a look? Spoil your guests for choice and serve up the ultimate barbequed banquet.
2. Be sure to cater for everyone
Who's on your guest list? Do they have any allergies? Before you buy your BBQ meats, it's worth double-checking. That way, you can pick up an alternative to those burger buns with the sesame seeds or purchase a couple of packs of gluten free sausages.
Is anyone vegetarian or vegan? Online you'll find a whole world of vegan-friendly BBQ ideas. So why not experiment? Just make sure you cook veg first to avoid any cross-contamination!
3. Enhance the taste of your BBQ meat
If there's one BBQ tip that you must take on board, it's this.
Marinating can make a huge difference to the quality of your BBQ meat. Even if you do it 10 minutes before you start to cook, just add a quick squeeze of citrus juice and toss in some olive oil and chopped herbs. Not only will this add to the overall flavour, the acid in the juice will break down tissue in the outer layer, tenderising the meat and making it even more succulent and tasty.
Not confident in your marinading skills? No worries. For the chefs who just want to grill, it's also possible to buy pre-marinated BBQ meat – and we have plenty of options available in our store.

4. Prepare, prepare, prepare
It might be a cliché, but preparation really is the key to a successful summer BBQ.
Before your guests start to arrive, pre-heat the grill. Classic charcoal barbies usually need around 20 minutes to reach the ideal temperature, whilst gas models only require about 10-15. Chop everything up well in advance. Or just buy your BBQ meat pre-prepared and ready to cook. Less time in the kitchen = more time for beer!
Always lift the meat out of the fridge 20 minutes before cooking. If it's too cold in the centre, there's a chance the outside will burn before the inside is cooked – so it's worth bringing it up to room temperature first. And if you're cooking sausages, our recommendation is to blanch them before adding them to the BBQ. Simply pop them in a saucepan of hot water and simmer until they turn grey. This helps to avoid any pink in the middle and (almost) guarantees perfection.
5. Get your timings right
Want to make sure your BBQ meat is super juicy and tender? Cook it low and slow.
Not all barbeques have a smoker facility, which can make this technique a little harder. But ultimately, it's about controlling the heat. Create hotter and cooler areas on the BBQ and, depending on how long they require to cook properly, move your meats around accordingly.
If you're worried about meat being undercooked, particularly chicken and other poultry, one fantastic BBQ tip is to use your oven first – and simply finish it off on the outdoor grill. That way, you'll get the signature smoky taste associated with a summer BBQ, without the risk of any poisoning…
6. Rest your meat
This is a BBQ tip that is usually forgotten. But for the tastiest results, it's crucial!
Once you've checked the meat to see if it's done – and the juices are running clear – take it off the BBQ and allow it to rest for at least 5 minutes. Of course, nobody likes cold food. But the heat from the grill causes the meat fibres to contract and can affect its texture. What's more, letting it sit for a while will allow the juices to be reabsorbed and ensure your food is as tasty and tender as possible.

Supreme Sausages – the summer BBQ experts
Eager to host the perfect post-lockdown summer BBQ?
Check out our full range of BBQ meats and send the invites. We make and dispatch all of our food on the same day, so freshness is always guaranteed. And, as most orders are delivered the next day, you can purchase your meat today and be serving alfresco less than 24 hours later.
For more BBQ tips and tricks or advice on the best BBQ meats for your guests, you're always welcome to get in touch. Either call us on 01865 891 652 or send an email to mail@supremesausages.co.uk and we'll get back to you. The sun is starting to shine, restrictions are starting to ease. Which means, it's time to get out your apron and dish up some delicious grilled food.