Longing for a little bon voyage to France?
The summer holidays still feel like a lifetime away. But… whilst we can't fast-forward time – or whisk you away to 'Gay Paree' or sunny St. Tropez – we can bring a little taste of la France to your home here in the UK.
How? With our delicious Toulouse sausages.
As a mainstay of our online sausage range, these popular bangers are available to buy all year round and an easy way to enjoy fab French flavours on a dreary February evening.
What is a Toulouse sausage?
Quite simply, a Toulouse sausage is a French-style banger.
Lots of different versions can be found throughout the country. But not surprisingly, Toulouse sausages originate from Toulouse – the 'pink city' located in the southwest of France.
Dating back to the 18th century, early recipes often contained shallots mixed with meat and spices. But now, a traditional 'Saucisse de Toulouse' tends to be made from just three key ingredients: pork, red wine and garlic. And it's known for its heady garlic flavour and strong aroma.
5 délicieuse Toulouse sausage recipes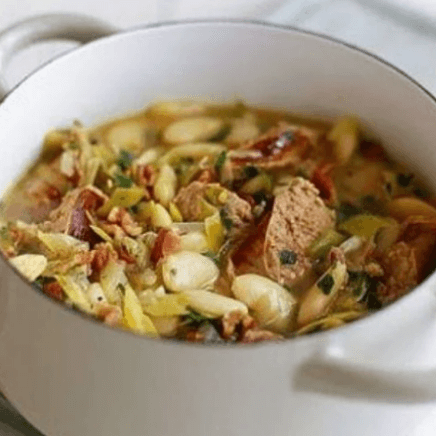 Toulouse sausages are most famously used to make French cassoulet. In fact, if you've never tried them before, our Toulouse sausage casserole recipe is a great place to start. It's buttery, garlicky, wholesome – the perfect hug in a bowl, for a cold winter day.
But keep in mind, there are so many other tasty dishes that can be cooked up with our pork, red wine, and garlic bangers. Here we've rounded up some of our absolute favourite Toulouse sausage recipes. So why not take a look? Give a couple of them a go?
You've got nothing Toulouse…
Experiment with the flavours and escape to France this teatime!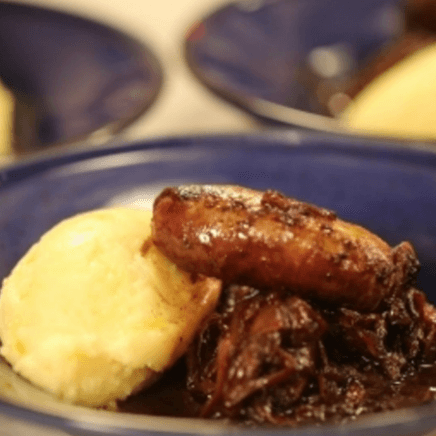 1. Toulouse sausages and mash
Sometimes, the trick is to keep things simple.
This recipe may be pretty basic, but it highlights the intense garlic flavour of the Toulouse sausages. And it's a quick and easy one to rustle up on a weekday.
Start by frying the sausages in a pan until they've browned evenly. Then, add chopped onions, a splash of brandy and some balsamic vinegar, and put the pan in the oven to cook for approximately 20 minutes.
Whilst the bangers are sizzling away nicely, whip up a dollop of creamy garlic mashed potato. And serve the dish with a rich gravy and a drizzle of truffle oil. We think you'll agree, it's très bien!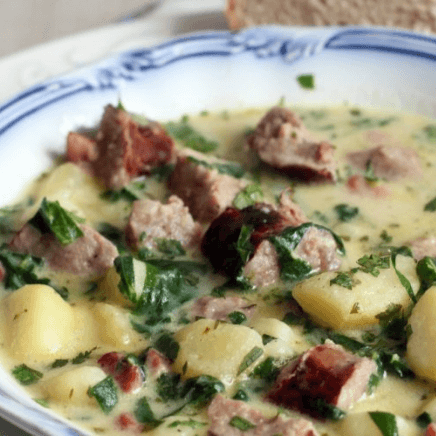 2. French country soup
This is another very traditional Toulouse sausage recipe, that's incredibly simple to make.
Begin by sautéing lardons, butter, garlic, and onions in a pan. Once the onions have softened, pour everything into a soup pot – along with potatoes, broth and a touch of salt and pepper. And let it simmer for 20 minutes.
Brown the sausages in a pan, before slicing them in half vertically and chopping them into bitesize chunks. And to finish the recipe, simply throw them into the soup pot with some chard and 240ml of cream.
Stir for 10 minutes and serve with a chunk of French baguette. Mmmm, c'est délicieux!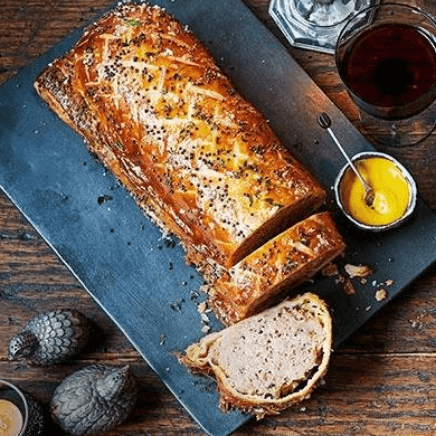 3. Toulouse sausage roll
Next up, a super-sized Toulouse sausage roll.
Essentially this is a recipe for a giant pork Wellington. Quite a bit of prep work is needed, and it can take a few hours to cook properly. So it may be one to reserve for the weekend!
Around 800g of sausagemeat is required, which means you'll need to de-case 10-12 of our Toulouse sausages. Bind the sausagemeat together into a log shape, cover in cling film, and leave it in the fridge for at least 3 hours.
Once chilled to perfection, roll the sausagemeat in all-butter puff pastry, brush the top with beaten egg, and bake in the oven for around 45 minutes – or until it's golden brown.
It's the perfect centrepiece for a gathering with family or friends!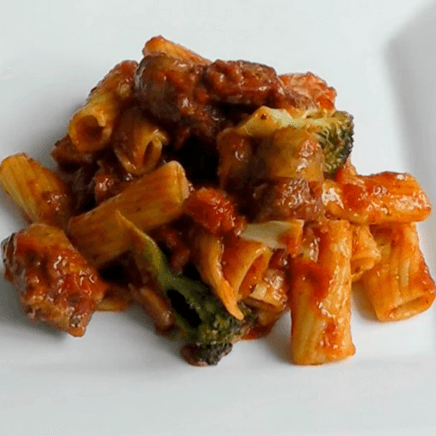 4. Toulouse and chorizo pasta
Your favourite French and Italian flavours combine, in this culinary delight of Toulouse sausages, chorizo, and tomato-based pasta.
This is another super easy recipe to master.
Simply chop both types of sausage into chunks and fry them in a pan for about 10 minutes. Throw in some garlic, a teaspoon of paprika, red wine, canned chopped toms, and tomato puree. And allow it to simmer for about 30 minutes.
Once the sauce has reduced, add some cooked pasta and broccoli, and complement the hearty dish with a side of homemade garlic bread. It's comforting, garlicky goodness in a bowl.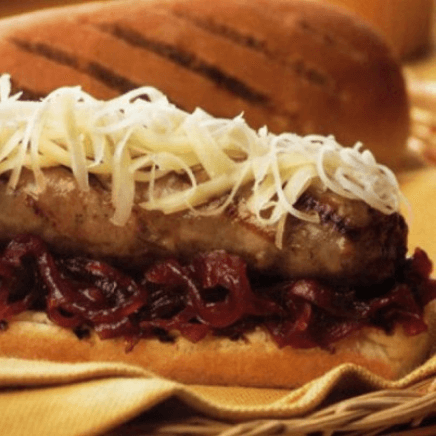 5. Toulouse sausage hotdogs with onion jam
Last but not least, be sure to try this mouth-watering Toulouse sausage hotdog recipe.
You can either grill the sausages in the oven or fire up the BBQ. Your choice. Just make sure your bangers are cooked through and evenly browned.
To make the onion jam, simply put some chopped onions, brown sugar, grenadine, red wine and red wine vinegar in a saucepan. Cook over a low heat, stirring occasionally, for around 20-30 minutes.
Once the jam is nice and sticky, spread a layer onto the base of your toasted hotdog bun. Pop a sausage on top and sprinkle with grated gouda. A simple yet effective crowd-pleaser.
Ready to buy Toulouse sausages?
As a leading online butcher, you can always rely on us to supply your tasty 'Saucisses de Toulouse'.
We currently offer a pack of six pork, red wine and garlic sausages for just £5.29. That's a lot cheaper than a flight to Toulouse – which, we're pretty sure, is the only way you'll find a Toulouse sausage as tasty as these!
Orders are made and dispatched the same day to guarantee freshness and all of our sausages are suitable for freezing for up to 12 months. So why not stock up and try a few of these dishes? Let us deliver a taste of France directly to your kitchen and rustle up one of our delicious Toulouse sausage recipes this February.
If you have any questions – or would like further inspiration on the best ways to cook Toulouse sausages – you're always welcome to get in touch. Either give us a call on 01865 891 652 or send an email to mail@supremesausages.co.uk and we'll get back to you as soon as possible.